Part XX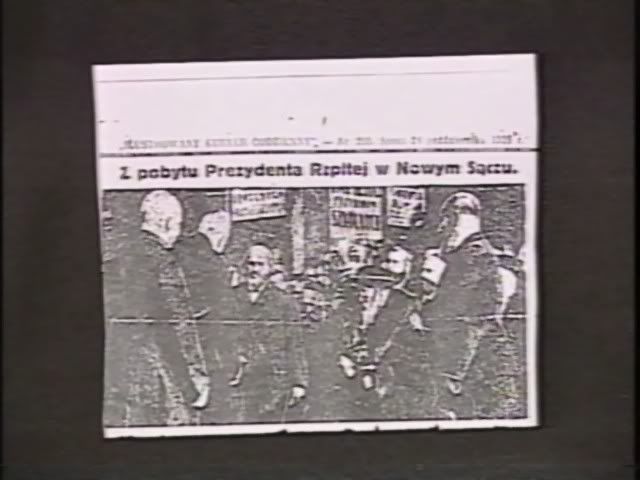 Rose Silberberg Skier:This is an exerpt from a newspaper from 1928, and my great grandfather, Abraham Klapholz, who was the head of the Jewish Community, is greeting the president of Poland. And with him is a rabbi bearing the Torah.
Debbi Portnoy: Which one is your grandfather.
RS: [3rd from left]. The president is 2nd from left.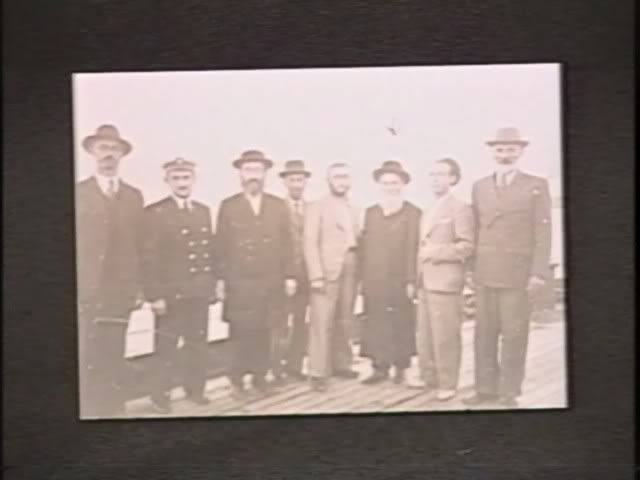 The gentleman 3rd from the right, with the beard and the hat, is my grandfather, Abraham Silberberg, he is on a ship, going to what was then Palestine in 1938, in order to build a house for his children and bring them all over to Palestine. Because he saw that problems were coming up. And first of all, he was a Chossid, but he also was a Zionist (unusual for those days), and he decided he wants to live in the holy city with his children.
Unfortunately, what happened a year later, is that in 1939 he was cut off from his whole family. And when he heard that his children were murdered, he laid down, he was so despondent, he laid down on the bed until he died. And he was not an old man. He just died from Tzores.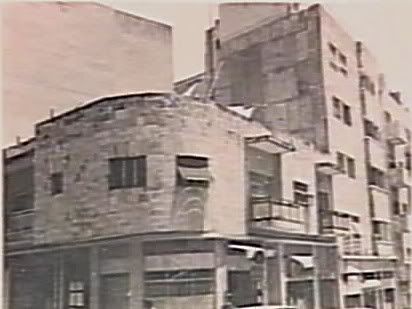 The shorter house is our house. My grandfather built it [in Jerusalem] in 1938. There are six stores on the bottom and five apartments there. My grandfather was hoping we would come, and as we were not coming obviously, the refugees from Germany who were able to come somehow past the blockade of the British, came and rented these apartments and rented these stores. Even though it's under rent control, I know when I went to Israel, that some of the people who are now in their 90s told me how much they loved my grandfather. He was the one who rented to them.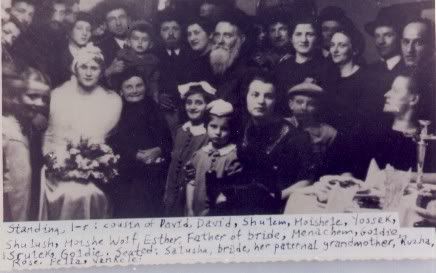 The bride in the picture is my aunt Sara, whom I mention in my story, who looked so Polish.
DP: What was her last name?
RS: Originally Silberberg. She was my father's sister. And here she married a Mr. Klagsbald but he was murdered. And she had a baby who was murdered too. Then she remarried after the war, and her name is Wachsman.
But here, in this picture, this is in 1939. My grandfather who is in the middle with the beard, came from Palestine to just be at his daughter's wedding, and then he went back.
I am here, the little child, the 5th from the left. And my mother is next to me. I'm 4 ½ years old.
DP: How did you get this photo?
RS: This is the photo that my aunt Sara had in the
pocket of her coat
, that she had had in the cellar, and later brought up again. She took it from the bunker and always carried these photos around. And that's the only way we have it. From all these people, except for my grandfather, who died in Palestine, just my aunt Sara and I have survived. All the others, members of my family, were murdered.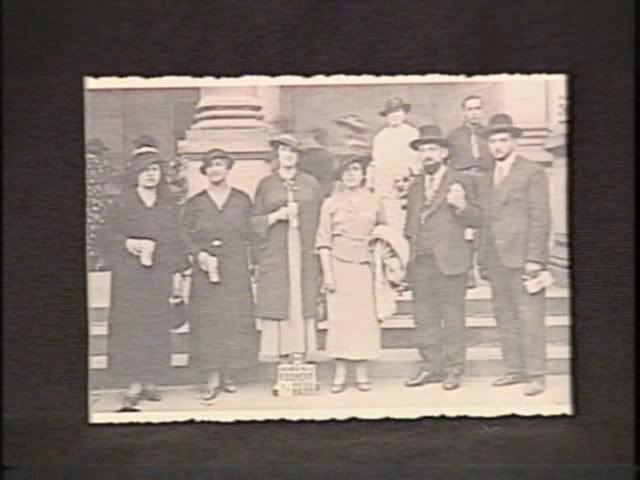 The lady on the left is my mother's mother. Gitel Klapholz. And she was a lovely lady. She's the one who gave me that
doll
that said "mama mama." That's my grandmother. She was taken to Auschwitz in 1943. A few months before my parents went. And she was murdered there.
DP: What year was this photo taken?
RS: 1938 probably. Before the war. This looks like a vacation spot. Carlsbad, in Czechoslovakia. The gentleman on the right is my father.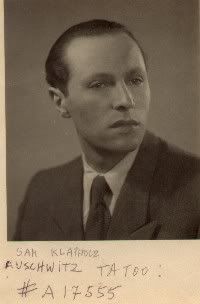 This is my uncle, Samuel Klapholz, who
threw me into the sub-bunker
, and saved my life that way. Then he opened the drawer and took me out again. So he definitely saved my life. He was very brave. This picture was take in 1947, after the war. My uncle now lives in Flushing, Queens, two blocks from me. He's married and he has children and grandchildren and they all went to Yeshiva.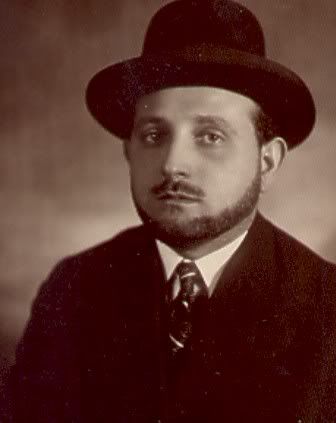 This is my father, Moses Silberberg. He was born on the birthday of Moses, the 7th of Adar, that's why he was named Moses. Also, the saying goes that he almost died at birth and so "Moses" was a double-meaning name.
He was sent to Auschwitz from the ghetto Srodula around August 1943. And from eyewitnesses, this is what I heard about him. That he survived until about March 1944. He worked in the kitchen in Auschwitz so that he had a little food. But a man from his hometown who was very sick approached him and asked him if he could give him a potato. So he took a raw potato from the kitchen, and put it in the pants of his pajamas (because that's what they used to wear there in Auschwitz), and as he handed the potato to the man, an SS man saw it, and he beat him to death.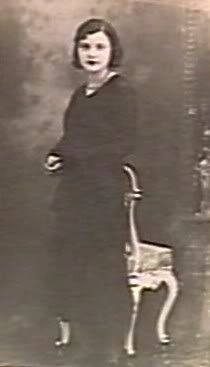 This is my mother, Felicia, or Fela (actually she was also called Feigel) Klapholz Silberberg. She was taken also to Auschwitz together with my father, in August 1943 from the ghetto of Srodula. And again there are eyewitnesses who told me after the war how she died. Died? How she was murdered, I should say. It seems that about 4 weeks after she got there, she started to get very sick. She had typhus, and they just let her lie on that cot until she died. They never fed her. They said she died of hunger.
She was 29 when she was murdered, so you can imagine how old she was [when this photo was taken]. At 29 she was dead.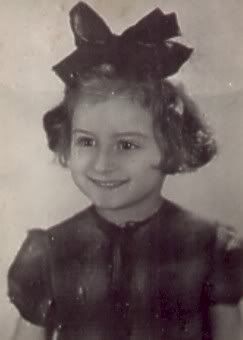 This is my sister Mala, or Malka Silberberg. And she was 3 years old when this picture was taken in our town of Jaworzno Poland in 1942.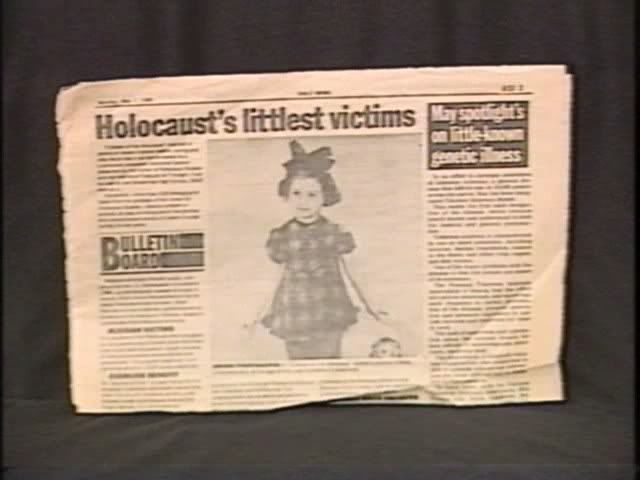 I was called by the Yeshiva of Flatbush to come over in 1989. They were going to set up a Holocaust museum in New York, and they were getting ready with all kinds of artifacts. And when I got there, they told me they had this picture, and they wanted some details and verification, and they were very interested in my sister. I was very surprised to see this picture. In fact, when I got there, in the auditorium there were so many people, and this picture was hanging, and it was magnified so many times. When I got there, she stared me right in the face. I became hysterical almost. I ran out and got my kids. I said, "take a look—that's your aunt." Would have been their aunt, had she lived. I was very moved.
So they told me, "One day we will open up a museum, if you have anything to remind you of her, give it to us." And I did. We made some [playing] cards, and these cards I gave to the museum.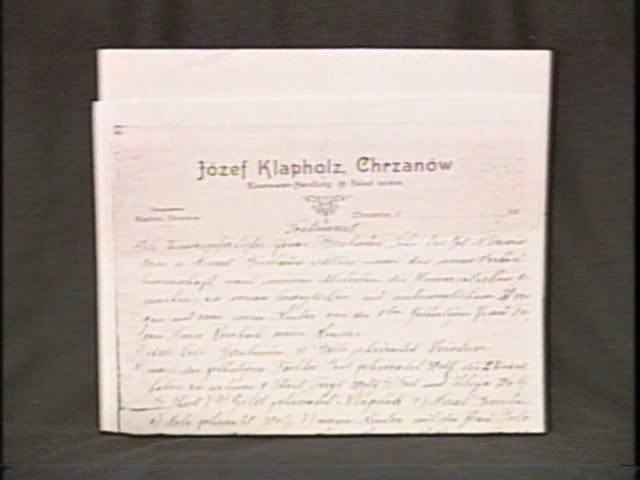 This is the stationary of my grandmother and grandfather, Jozef Klapholz. They had a big hardware store. And my grandmother wrote a Will on this stationary in 1921. I think it's such a beautiful handwriting. I'm very proud of her.
DP: How did you get a copy of the Will?
RS: You know my uncle (Sam Klapholz)? The one you saw in the New York Times? Well this was together with the insurance policies that he had which was shown in the NYT.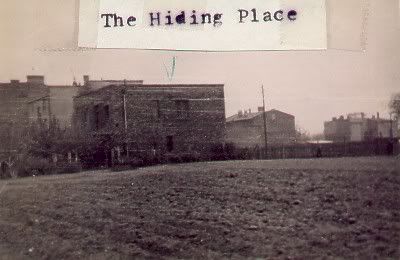 This house is the house of Mrs. Stanislawa Cicha in Sosnowiecz. This is the back of the house. This is where we were
hiding
from 1942 to 1944. Till we were discovered. And in that house, also she had the chicken coup, that was the bunker. This photo was sent to me by Mrs. Cicha. [reading the caption on the back] "This is the house where we lived together during the very hard times."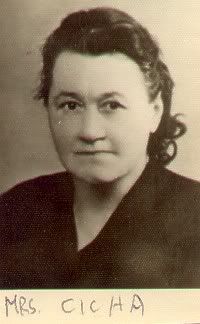 This is Mrs. Stanislawa Cicha, who was hiding us in the chicken coup. This is from 1962.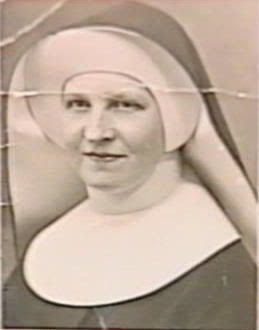 This is Sister Andrea of the Convent of the Grey Sisters of Neisse-Neuland. When she was being evacuated with the German troops, as she was a German Nun, they were going to Berlin when the
Russians were nearer and nearer
, she left her room and she left the door open. I was standing in the corridor and I said, "Sister, you forgot your picture." And she said, "I don't want it, but if you want it, you can have it as a souvenir of me." I went in and I took the picture. This was 1945.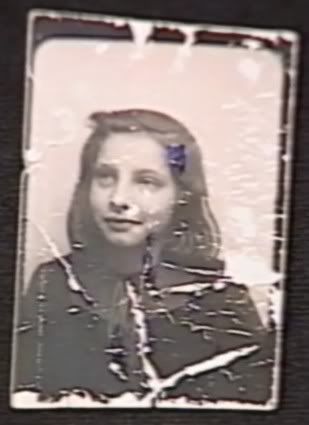 This is a picture of me when I was 10 years old in the Convent. We went out, and they had a kind of 5 and dime store, and we went in. And just as they have in this country, you could just put in a coin and get a picture taken, and I decided I'll do that. So the picture is not very clear, but here I am, in the Convent in 1944.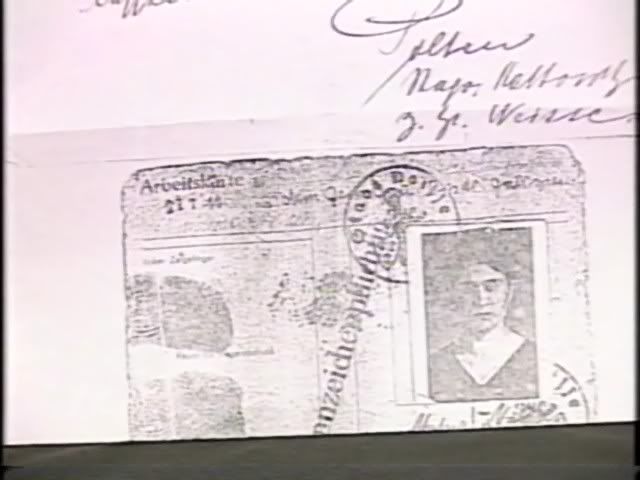 This is a very unusual document. It's a certificate of liberty. When we were
questioned by the Gestapo
at Gestapo headquarters, and they accused us of being Jewish, and we denied it, at the end, as they were letting us go, evidently believing our denials, they gave my aunt a certificate of liberty. That we are released and not under suspicion anymore. So not only that we were released, but at the same time the three SS men signed it. It says "July 6, 1944, in Neisse." On the bottom is a picture of my aunt, with the name Maria Masur, false papers, and it gives her permission to go back to work.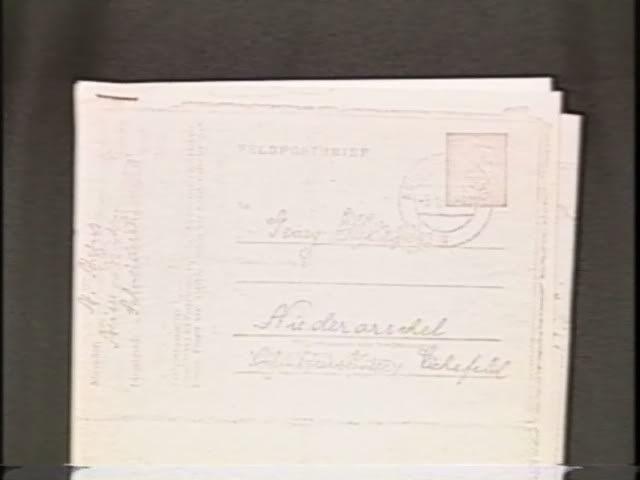 This is a letter that was written by my aunt Sara in Germany when we were on Aryan papers. The letter is addressed to my uncle, Sam Klapholz. He also received Aryan papers from that man,
Nedza
, but he was on the same list as us. And even though we were released, my uncle was not released. Being a man, he didn't deny that he was Jewish, and he was sent to Auschwitz. He lived through Auschwitz, and he was liberated in 1945.
But the letter is very interesting. Because my aunt wrote him this letter because she heard that he was on Aryan papers. By that time, he had been taken to Auschwitz. And the letter came back as "man is absent, or unknown." We were lucky that the letter came back. Had they connected us with my uncle, who was already in Auschwitz, especially since they had already questioned us, they would have probably figure out that we were Jewish.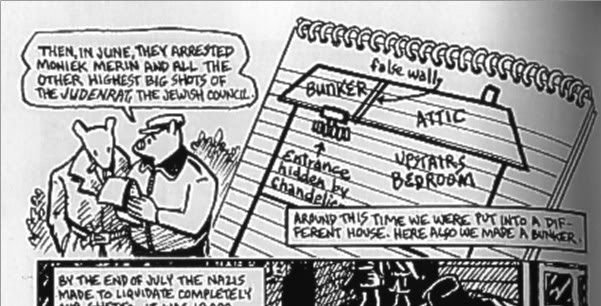 This is an exerpt from Maus 1, by Art Spiegelman. When I was reading it, I realized that I had been in the same bunker in the
attic
, with the entrance hidden by a chandelier. And I wrote to him. And his sketch is very exact. It's exactly as it happened when we were caught by the Germans. And then after I had written to him, he wrote me back a very beautiful postcard.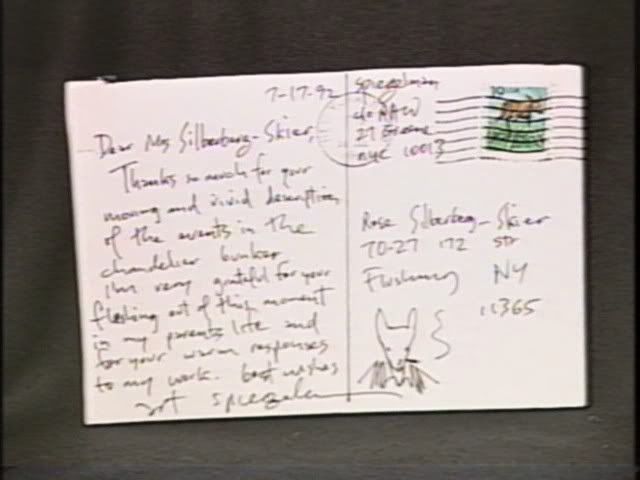 This is the postcard I received from Art Spiegelman replying to my letter. And he also sketched that little mouse, because I had told him in my letter how the child died in the garden. And on the other side, he makes I believe two mice that are dead mice and the parents are looking on.
I forgot to say something, apropos this baby. I would like to say something.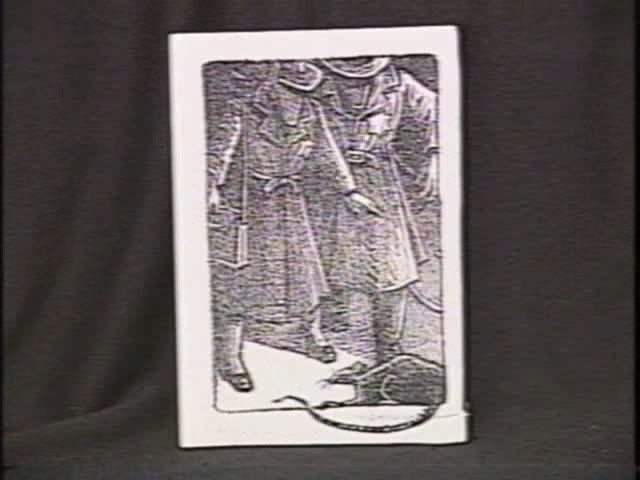 This is an original sketch by Art Spiegelman depicting the story I told him. The mouse is that little baby in the garden that's dead, and the people here are pointing to the dead baby. Actually, it was only the father at that time who saw the baby dead, not the mother. But the thing is that the father, who gave himself up to the Germans did not survive the war. The mother did. That woman, Frieda, survived the War, and went to Israel. And about 15 years ago my aunt Sara, who was together with us, went to Israel, and as she was in Tel Aviv, looking through a window for pocketbooks, through the reflection she saw in the back of her a woman that looked familiar. She turned around—it was Frieda. It was the mother of that baby. They hugged, and she said, "My God, I didn't know you survived!" She said yes, and she remarried, but she had no more children.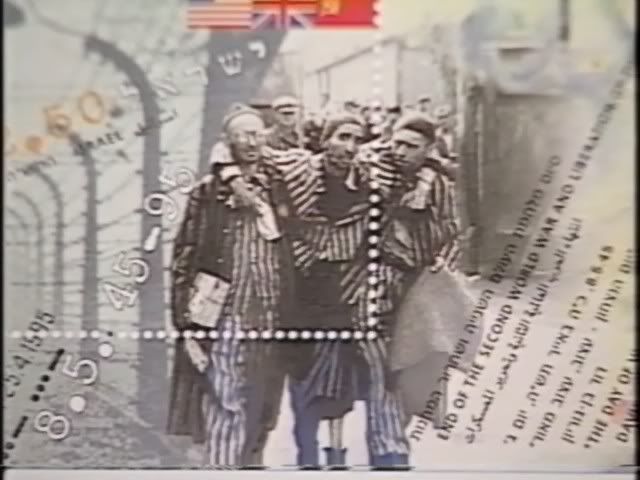 This is a stamp that was published by the State of Israel, depicting 50 years after the liberation of Dachau concentration camp, plus other concentration camps. And they blew it up, and it's above Yad Vashem entrance in Jerusalem. It happens, that the man on the right is my uncle, who was liberated from Dachau. His name was David Klapholz. He's my mother's brother [and brother of Sam Klapholz]. And the picture was accidentally found, and blown up. They never knew the names, until my cousin went and said, "This is my father. The man on the left is his friend. The man in the middle died the day after liberation." And then they put down the names of these people.
Unfortunately my uncle, who is in this picture (and this is such a famous picture), never saw it because he died before this was published.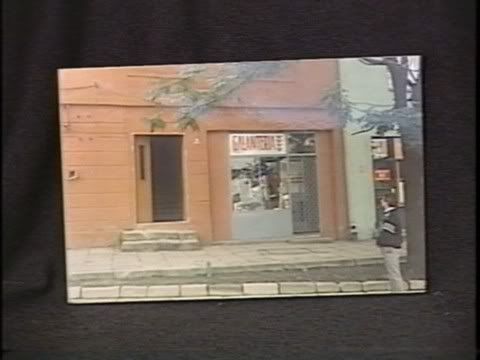 This is my grandfather's house in Jaworzno Poland. In the back was the printing press. And up on the top floor was my grandfather's apartment.
And that's where we were during the war
. In that apartment the Germans took away my Shabbos doll. And at one time this was a pharmacy, but I see it's something else today. This was taken four years ago, 1993.